This event has been postponed until 2022 because of the ongoing COVID-19 pandemic. More details will be posted on this website as soon as possible.
Welcome to the 21st International Conference on Atomic Processes in Plasmas. APIP will be held at the Headquarters of the International Atomic Energy Agency (IAEA), in the Vienna International Centre, Vienna Austria in 2022.
There is no registration fee for this event.
A limited number of grants for financial assistance with travel and accommodation are available for eligible participants.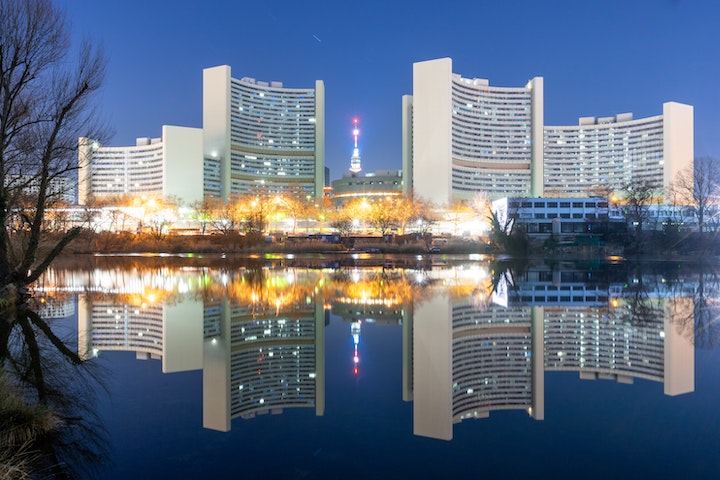 Participants are invited to submit an abstract for a presentation on any of the following topics.
Astrophysical Plasmas
Fundamental Data and Modelling
Atmospheric and Medical Plasmas
High Energy Density Plasmas
Low Temperature and Industrial Plasmas
Magnetically-Confined Fusion Plasmas
Measurements of Atomic Processes
Powerful Light Sources (XFEL, etc.)
Small-Scale Plasmas (table-top lasers, EBITs, etc.)
Warm Dense Matter
Confirmed Speakers
Félicie Albert, Lawrence Livermore National Laboratory, USA
Annemie Bogaerts, University of Antwerp, Belgium
Annette Calisti, PIIM, Aix-Marseille Université, France
Byoung-ick Cho, Gwangju Institute of Science and Technology, Republic of Korea
Elisa Costantini, SRON, Netherlands Institute for Space Research, Netherlands
Keisuke Fujii, Kyoto University, Japan
David Hoarty, AWE plc, UK
Curtis Johnson, Auburn University, USA
Alisher Kadyrov, Curtin University, Australia
Steffen Kühn,

Max-Planck-Institut für Kernphysik, Heidelberg, Germany

Amanda Neukirch, Los Alamos National Laboratory, USA
Jianmin Yuan, AMPG, National University of Defense Technology, China
Beata Ziaja-Motyka,

Center for Free-Electron Laser Science,

Deutsches Elektronen-Synchrotron (CFEL-DESY)
Confirmed Tutorial Lecturers
Connor Ballance, Queen's University Belfast, UK
Ming Feng Gu, University of California, Berkeley, USA
Chris Fontes, Los Alamos National Laboratory, USA
Stephanie Hansen, Sandia National Laboratory, USA
Tim Kallman, NASA Goddard Space Flight Center, USA
Annie Klisnick, Université Paris Saclay, France
Yuri Ralchenko, National Institute of Standards and Technology, USA
Mourad Telmini, University of Tunis El Manar, Tunisia